by Sarah Harper
In recognition of International Women's Day 2018 we highlight the plight of millions of women across the world still trapped in oppressive demographic regimes, which frame their lives and those of their children. This is the story of Samira, a 40 year old woman who lives with the pastoralist Fulani tribe in Niger.
Shortly after her 13th birthday, Samira's parents married her, their eldest daughter, to a 52 year old friend of her father. Her first child, a girl, was born one year later, and now at 40 Samira has experienced some 15 pregnancies, and has given birth to 9 live babies. All of her four daughters were married by 13. Samira became a grandmother at 27, was widowed at 28 and now has 24 grandchildren. Samira sees herself as fortunate. Unlike several of her friends, who were also married to much older men at a very young age, she escaped the damage and death caused by very young child birth, and all but one of her children are still alive. Her eldest daughter was not so lucky. She died in childbirth at 12. Young girls' are particularly vulnerable to complications in labour, and childbirth can result in an obstetric fistula (a hole in the birth canal), which leaves women permanently incontinent and sometimes ostracised from their communities.
Samira has a limited education, like 98% of Niger girls she left school before secondary education and like half of the girls in her village she was married by the age of 13. Samira rarely leaves the village where she lives; she has been completely dependent on her husband's family to provide her and her children with housing, food and clothing. She is also preparing her eldest grand-daughter for marriage within the year, arranged for the 11 year old by her future husband's family. Samira can expect to become a great grandmother in her early 40s and live into her 60s, and will see many great- grandchildren born before she dies, and maybe even her great-great grandchildren (Harper, 2016).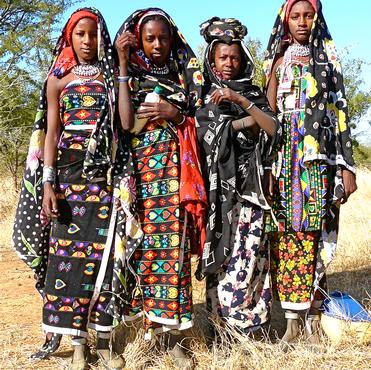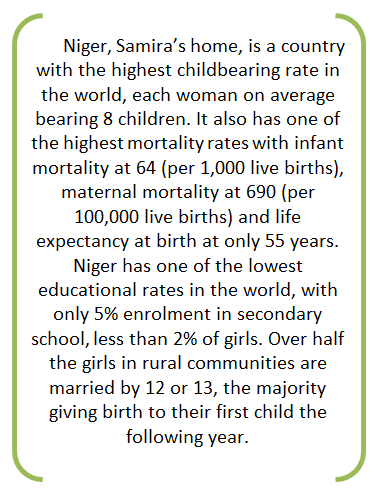 Featured Images: Flikr / Flikr
---
About the Author
Sarah Harper is Professor of Gerontology at the University of Oxford, Founding Director of the Oxford Institute of Population Ageing and Senior Research Fellow at Nuffield College.
---
Comments Welcome:
We welcome your comments on this or any of the Institute's blog posts. Please feel free to email comments to be posted on your behalf to administrator@ageing.ox.ac.uk or use the Disqus facility linked below.