It was with deep sadness that I learned of the sudden and most untimely death of my colleague Eli Crespo from the Universidad Mayor de San Andres, La Paz, Bolivia. I first met Eli at our LARNA conference held in Buenos Aires, Argentina and Eli engaged immediately with the work and future development of LARNA. Subsequently she and I, along with Professor Alejandro Klein from the University of Guanajuato-Leon, Mexico, worked to arrange the 2nd LARNA workshop in La Paz in March this year. Thanks to Eli's drive and determination, this workshop was a huge success, attracting academics, policy makers and practitioners from Bolivia and the region. This was truly an awareness raising event and since the workshop Eli had continued her efforts to raise awareness of ageing in Bolivia. Indeed, only a couple of weeks ago, we were communicating about a piece of research which we wanted to develop together and she was planning a visit to the Institute in Oxford.
That enthusiasm and dedication – to her research and to the cause of older people in Bolivia – has been cruelly brought to an end for Eli, but I sincerely hope together with colleagues here in Oxford and in LARNA and together with her friends and colleagues in Bolivia that we can take on the task and move her work forward. Let that be our legacy to her memory.
Our thoughts are with her family and friends.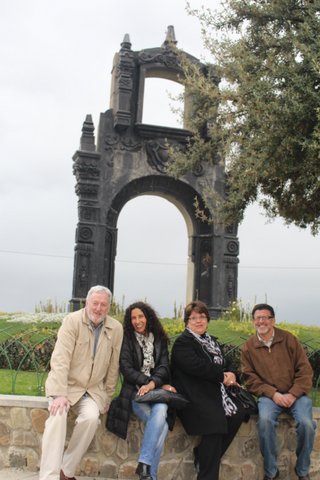 (from Left to Right) Dr George Leeson, Eli Crespo, Professor Veronica Montes de Oca and Professor Alejandro Klein during a break at the workshop in La Paz.