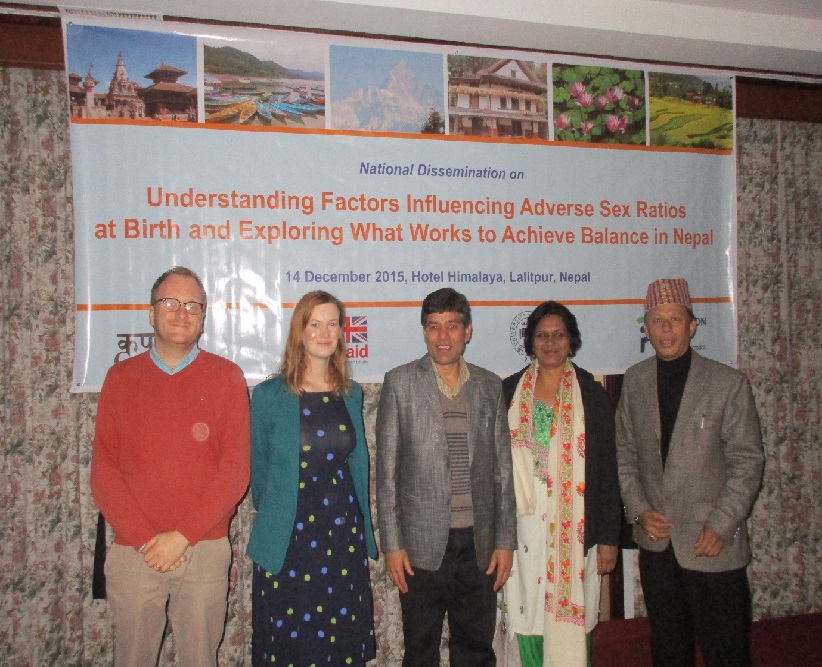 Last month I travelled to Nepal to disseminate research (funded by the Birth Control Trust), that I have been leading there concerning the emergence of sex-selective abortion. A culture of son preference has long been ingrained in Nepali society, but until recently people have been having many children meaning that they would wait until they had a son (or two) by chance. In addition abortion was only legalised in 2002, meaning that even if a sex-selective abortion was desired it would involve travelling to another country or risking an unsafe, illegal procedure. Since 2002, even though sex-selective abortion is specifically prohibited, it is clear that some people in Nepal have started to systematically abort girls. Legalising abortion resulted in a reduction in maternal mortality and a general improvement in maternal health, so had many important positive outcomes, which should not be underestimated. However, early qualitative and small-scale studies indicated sex-selective abortion was likely to be happening, and with analysis of a large national survey conducted in 2011 it became clear this this was certainly occurring amongst some sub-populations. Even so, to convince the Government of Nepal that this was happening we needed to analyse the full Population Census.
We estimated that 22,540 girls were missing at birth in the five years before the Census. We also estimated that around 10% of girls under 5 were "missing" in Kathmandu and Bhaktapur (both centrally located, urban districts with very low fertility). Finally, we found that over 7 million people (more than a quarter of Nepal's population) live in districts where the sex ratio at birth exceeds 110 boys per 100 girls. While Nepal is an incredibly diverse country, our research shows that this issue is substantial and growing.
Knowing that sex-selective abortion is occurring in Nepal, albeit predominantly in certain geographic locations for now, it is key that interventions are put in place to stem this practice. However, there is surprisingly little high quality evidence on interventions that work to reduce sex-selection. Indeed, there have been many different interventions in India (from public information campaigns, and police raids on abortion clinics, to giving money to parents who have daughters), but there is not much hard evidence that these either do or don't work. Part of the problem is that the most accurate way to measure sex-selection is through the sex ratio at birth. However, births affected by an intervention to reduce sex-selection are not seen for many months after the intervention. Furthermore, a very large sample size is required in order to identify a significant change in the sex ratio at birth. To give an idea of scale, 20,000 births would be required before a sex ratio at birth of 108 could be considered significantly skewed. Thus, to truly test an intervention, it is necessary to do so over a relatively long time scale and with a large enough population (or at least a large enough number of births) so that changes in the sex ratio could be correctly identified.
Thanks to this lack of evidence concerning how to tackle sex-selective abortion, we were keen to interview key informants in Nepal about what they thought might work in that specific context. We spoke with policy makers, lawyers, journalists, and INGO/NGO staff amongst others. We found that while knowledge of preference for sons was widespread and deeply ingrained (it was mentioned that if a woman does not bear a son then her husband may remarry), many people were unaware that sex-selective abortion was now occurring in Nepal. We found that participants were also often unaware that sex-selective abortion, and even disclosure of the sex of a foetus is illegal. Those that did have knowledge of sex-selective abortions occurring mentioned that service providers were receiving money in return for disclosing the sex of a child or arranging/providing a sex-selective abortion. Others said that plenty of providers (particularly in the private sector) would share the sex of the foetus without payment. When asked what could be done to reduce sex-selection, it was clear that only long term, sustained attitudinal change towards the status of women could remove the preference for sons that underpins sex-selection. However, given the lack of knowledge about the illegality of the practice and its prevalence, it was suggested that training of those providing abortion and sonography services combined with media and advocacy campaigns could have an effect in the short to medium term. The problem, though, is that we don't have any hard evidence on what will work and what won't.
Given that an estimated 1,427,000 girls are missing at birth, worldwide, in a single year, it is clear that this is an issue we need to act upon. We need to test interventions and we need to monitor those interventions thoroughly so that we have firm evidence on whether they work or not. It has been suggested by some that ultimately only economic development and gender equality will solve the issue, and thus short term interventions will be ineffectual. I have a lot of sympathy for this viewpoint, but it is surely too early in the day to be completely fatalistic. There may, yet, be something we can do to hasten the reduction of sex-selective abortion.
Our preliminary analysis of the Population Census and qualitative interviews is provided in a policy brief attached to this blog. Please note that all results are preliminary and contact me if you would like more information. Do not cite without permission.
About the Author:
Dr Melanie Channon (nee Frost) is a Research Fellow at the Oxford Institute of Population Ageing working on the Collen Programme. Melanie is a trained demographer and social statistician, and her primary areas of research interest are the drivers of fertility transition in developing countries, son preference, and gender statistics. She has expertise in the demography of both Asia and Africa, with a focus on Nepal and South Asia.
---
Opinions of the blogger is their own and not endorsed by the Institute
Comments Welcome: We welcome your comments on this or any of the Institute's blog posts. Please feel free to email comments to be posted on your behalf to administrator@ageing.ox.ac.uk or use the Disqus facility linked below.