People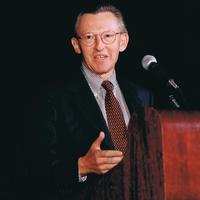 Robert (Bob) McNulty
Visiting Fellow
President and CEO of Partners for Livable Communities
Robert H. McNulty is a Visiting Fellow at the Oxford Institute of Population Ageing (01st October 2015 to 30th September 2021).
Robert H. McNulty - President and CEO of Partners for Livable Communities
For more than 30 years, Robert McNulty has thrown his skills and energies into civic invention, arts and creativity, and agendas of social inclusion to benefit the communities of America. A coalition builder par excellence, he formed Partners for Livable Places — now known as Partners for Livable Communities — in 1975, the first organization of its type in American history.
Partners has since been at the cutting edge of promoting agendas of livability, quality of life and the civic structures to support them, primarily in America but increasingly in other parts of the world. Partners' network includes over 1,000 organizations ranging from the World Wildlife Fund and the Urban Land Institute to such grassroots organizations as Project Row Houses in Houston and Nuestras Raices Community Gardens in Holyoke, Mass.
Immediately prior to founding Partners in 1975, McNulty served as assistant director of the Architectural and Design program of the National Endowment for the Arts, providing small grants to start-up community-oriented arts efforts across the nation. Earlier, he was a research assistant to the director of the Smithsonian's National Museum of American History and an environmental advisor at the General Services Administration. McNulty is widely traveled, having engaged in projects or offered counsel in over 300 communities in America, in addition to extensive foreign travel including some 100 countries around the world. His interests range from an Aging in Place program of Partners to serving as a facilitator to interact between racially divided communities.
Over the last decades McNulty has also written articles on urban strategies for publications ranging from the Washington Post and Christian Science Monitor to the Atlanta Magazine and California Monthly Magazine. An accomplished public speaker, he has addressed numerous national, regional and local groups, ranging from the U.S. Conference of Mayors and the National League of Cities to the Aspen Institute and the Memphis Jobs Conference.
Links to publicly accessible reports; academic publications available on request.
2020