People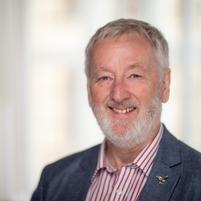 Professor George Leeson
Professorial Fellow
M.A. (Oxon), M.Sc. (Oxon), PhD (Copenhagen), Fellow of the Galton Institute, Senior Research Fellow, Kellogg College
+44 (0) 1865 612808
george.leeson@ageing.ox.ac.uk
Professor George Leeson is Visiting Professor of Demography at the University of Guanajuato-Leon in Mexico and a Professorial Fellow at the Institute of Population Ageing, where he co-ordinates the Latin American Research Network on Ageing (LARNA) and the Central and Eastern European Research Network on Ageing (EAST). Professor Leeson's first degree was in Mathematics, followed by a Masters in Applied Statistics, both from Oxford. His Doctoral work was in Demography, firstly at the London School of Hygiene and Tropical Medicine and then at the University of Copenhagen, where he worked as an Associate Professor at the Institute of Statistics, University of Copenhagen, before returning to Oxford.
George's main research interests are in the socio-demographic aspects of ageing populations, covering both demographic modelling of population development and the analysis of national and international data sets. He directed the Danish Longitudinal Future Study, which elucidates the attitudes and aspirations of future generations of older people in Denmark, and he is Principal Investigator with Professor Sarah Harper on the Global Ageing Study, a survey of 44,000 men and women aged 40 to 80 in 24 countries.
George's current research includes the demographic inequalities of global ageing, the changing populations of Europe and Latin America, migration and migrants in Europe, causes and consequences of depopulation in Central and Eastern Europe, and future prospects for longevity.
Recent professional commitments
Professor Leeson has been demographic expert to address the impact of demographic developments on issues relating to food safety and nutrition at the European Commission, Health and Consumers Directorate-General, DG-SANCO, Directorate E -Safety of the Food Chain to help develop a strategy for DG SANCO's policy and legislative framework to deliver on EU food safety and nutrition to 2050.
He has worked extensively with user groups, academics and providers across Europe in these areas of research, as Specialist Advisor to the Danish Government Commission on Ageing; Advisor to the Danish Government Programme on Older People and Technology; International advisor to British Government initiative Better Government for Older People. Professor Leeson was the demographic change expert working on the European Commission's independent evaluation of innovative measures under Article 6 of the ESF Regulation: innovative approaches to the management of change.
Professor Leeson is a member of Public Health England's Expert Advisory Group on Productive Healthy Ageing & Dementia, and a consultant researcher on the DAI@Oxford Programme.
Professor Leeson is co-editor of the Journal of Population Ageing and Population Horizons.